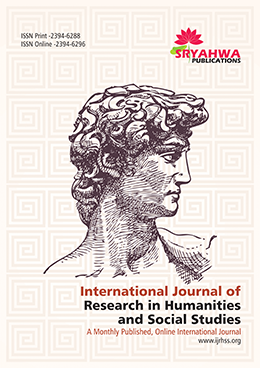 Welcome to IJRHSS
International Journal of Research in Humanities and Social Studies (IJRHSS) is a research journal with international dimensions. It is an open access, online and print publication that comes out every month. It provides a global platform for Social Scientists, Social Philosophers, Philanthropists, Economists, Political Pundits, Statesmen, Sociologists, Public Administrators, Historians, Chroniclers, Journalists, Media Analysts, and News' Makers.
IJRHSS will publish articles / papers/ reports/ case studies/ all other contributions relating to whole gamut of Humanities & Social Sciences ensuring originality, competence and erudition.IJRHSS has a mission to publish the papers of the highest quality with innovative ideas on all the subjects relating to Humanities and Social Studies.
IJRHSS expects all the articles or papers to be original which are not published previously or submitted to any journal for the consideration for publication. All the articles or papers must adhere to the style and the ethics of the IJRHSS. All the articles or papers will be thoroughly reviewed and edited by expert reviewers and language editors before consideration for publication.
Recently Published Articles
The Standardize Implementation of Government Implementation Basically on Accrual on Regional Government in Merauke District

View | Download |

1-14

"Elements for a Code of Ethics": A Best Practices Approach

View | Download |

15-20

The Social Capital: An Explanatory Factor of Existing Divergence between a Company Indebted and a Business Not Indebted

View | Download |

21-28

Independence of the Internal Auditing Independence and Accountability of Child Funded NGOs on Uganda

View | Download |

29-37

Capturing and Integrating Sustainable Customer Requirements into Product Design

View | Download |

38-45

The Creative Behavior of Fishermen Communities in Kedungrejo village, Muncar, Banyuwangi

View | Download |

46-52

The Role of Islamic Boarding School on the Economic Empowerment of the Society (a Case Study at Islamic Boarding School Salafiyah Syafi'iyah Banyuputih Situbondo)

View | Download |

53-62

Transformation of Local Wisdom Values in Social Studies Learning at SMPN 2 Genteng

View | Download |

63-70

Is Servant Leadership a 'Christian Theory'? A Critical Examination of Greenleaf's Servant Leadership Concept

View | Download |

71-78

Firm Problemistic Search: A Review and Agenda for Future Research

View | Download |

79-85

The State of the State: A Meta-Analysis of State Involvement in Television Broadcasting in the Former Czechoslovakia

View | Download |

86-94